Make real batik or painting on real canvas
Direct inkjet printing on any fabric.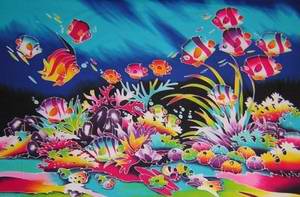 Do you know, what is real batik?
Do you know how much costs real batik?
1 sq. meter (9 sq. feet) costs near $5000
Now you can make absolutely real batik
on your inkjet printer (any model, any ink).
All you need - to steep fabrik in special liquid RFC-1.
It's new patented technology!
It's non flammable, non toxic, non allergic - absolutely safe.
You take any light fabric (silk, chiffon, cotton, canvas).
Dip it in RFC- and dry.
Any fabric after drying becomes like paper.
Now you can print any image on it.
You get real 2-sided image - real batik!
The image is washable, UV- and weatherproof.
Best for gifts, wedding gifts, corporate gifts...