This revolutionary Manicure Printer
takes nail fashion to a whole new level!
For the first time you can decorate your nails
with virtually any design and millions of colors-fast, clean and easy.
From French designs to florals, fine art to cartoons,
from mild to wild the Manicure Printer
can decorate nails in styles to please everyone.
You can even input your own designs or photographs
to match that special outfit or make your own fashion statement!
It's new, it's fun, it's affordable!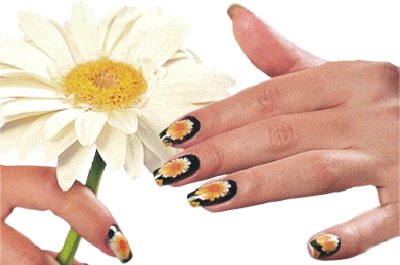 Printers view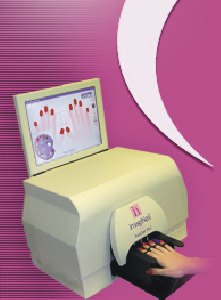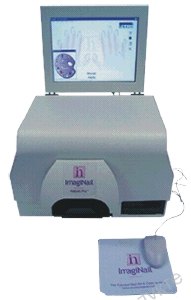 Decorating nails with the Manicure Printer is fast, clean and easy. It works on virtually any type or size of nail. And the quality and selection of images is unmatched (you can even add your own art or photos!) It's fast, taking less than seven minutes to decorate 10 fingers. Because little clean up is required, you can service more customers in a shorter time. And the Manicure Printer is easy to use, so you'll be making money in no time!

Step 1
Apply special prep coats to prepare the nails.
Step 2
Place the hand in the Manicure Printer. With just a few clicks, art is selected and placed on the fingers. The Manicure Printer automatically adjusts the art to fit the size and shape of the nails perfectly. With one final click all of the colors are sprayed directly onto the nails.
Step 3
After decorating, Long Life Sealer is applied to seal and protect the image and add shine. It lasts as long as regular nail polish.
Coatings & Cartridges
The Manicure Printer incorporates a series of special nail coatings designed to provide the best possible results and image quality.
This Manicure Printer will revolutionize your business.
With this amazing new device you will be able to:
Make more money!

Application cost is less than 10 cents per nail- so at only $1 per nail charged you will earn more than $9 per client. Because of the Manicure Printers speed, up to eight clients per hour can be decorated, generating incremental revenues of $72 or more per hour.


Just two nail techs decorating three clients per day can generate $16,000 or more in incremental annual sales, and additional revenues may be earned from retail sales of top coat.


Revenues build quickly and the Manicure Printer can pay for itself in less than one month.



Attract new clients.

Marketing support and materials available from our company will help you build your business.



Gain a competitive advantage

Offer new, high quality services to your clients.


It's fast, fun and the results are amazing!



Offer additional services to clients

Manicures, fills and other services can all be offered to clients coming in for nail decoration increasing your revenues even further.



Improve your clients' satisfaction and loyalty

Decorate their nails in vivid color and photographic clarity!


The huge selection of art is sure to provide something for everyone-you can even add your own designs or photos!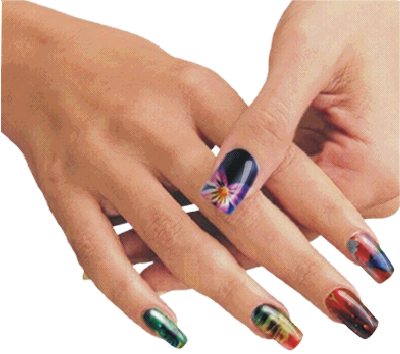 Some samples of pictures, that you can use.
But total quantity in unlimited.
















































The Manicure Printer includes Laptop inside and not requires PC.
It costs only $ 5 840 (without LCD monitor)
Please, mail me for any order.

I accept PayPal

If You want wholesale order, please, mail me.